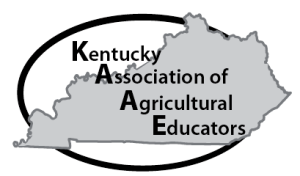 The Kentucky Association of Agricultural Educators (KAAE) is the professional organization for Kentucky Teachers of Agriculture. KAAE is focused on providing advocacy for agricultural education, professional development for agricultural educators, and recruitment and retention of agriculture teachers.
KAAE Officers
President - Bradley McKinney- Rowan County
Vice President - John Martin- Thomas Nelson
Past President - Misty Bivens- LaRue County
Secretary - Janella Miller- Pulaski County
Treasurer - John Hammond- Thomas Nelson
Reporter - Daniel Bustle- Locust Trace
About KAAE
KAAE Executive Committee Minutes
Join KAAE
KAAE has a unified dues package, meaning that KAAE members are automatically members of the National Association of Agricultural Educators, Kentucky Association for Career and Technical Education, and Association for Career and Technical Education. Member benefits include professional liability insurance, advocacy for agricultural education and career and technical education, access to professional development, leadership development opportunities, and access to professional networking opportunities.
Programs and Awards
The Teacher of the Year Award is a joint venture of KAAE and the Kentucky FFA Foundation, Inc. Each region is eligible to nominate one teacher for this award. A committee chooses the Teacher of the Year recipient from these regional winners. All regional and state winners receive cash prizes and are recognized at the State FFA Convention. The Teacher of the Year winner is eligible to compete for the prestigious NAAE Outstanding Member Award.
Kentucky Teacher of the Year Application - PDF | DOC
Other KAAE Awards – KAAE also chooses a state winner in the following award categories each year: Outstanding Young Member, Outstanding Secondary/Middle School Program, Teachers Turn the Key, and Ideas Unlimited. These applications are due at the State Paperwork Rating in April. Click here to learn more and download applications.
Johnnie Mathias KAAE Scholarship Program – Each year, KAAE distributes $6000 to FFA members in college scholarships. The program is named in honor of former KAAE President and Henderson County Teacher of Agriculture the late Johnnie Mathias.